Blog
Italian-Spanish dictionaries
Nov 25, 2020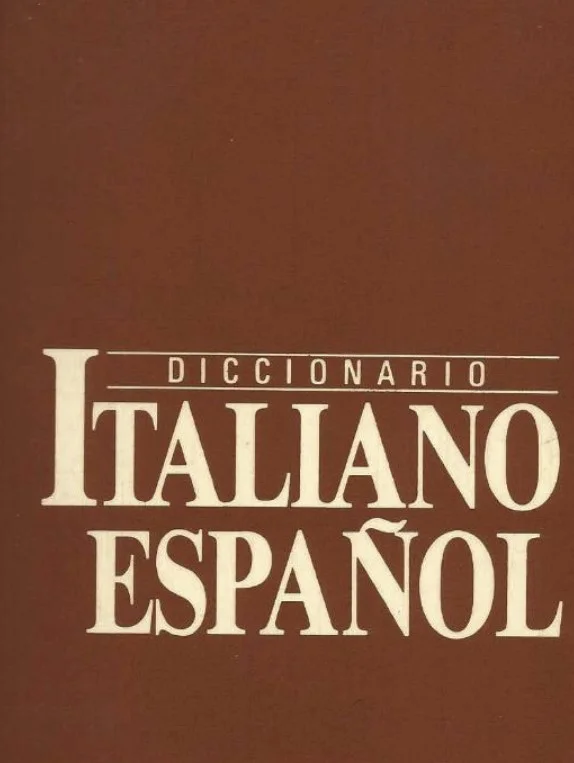 Italian-Spanish dictionaries
It is essential that students of the Italian language always have a dictionary close by , with the intention of solving all their questions and expanding their vocabulary. In today's article we want to help all those who have doubts and do not know which dictionary to choose, which one to use as a support and basis in the learning process . In this well-organized list, we have selected the fundamental and most recommended Italian-Spanish dictionaries by the best language schools, so that students have the support they need.
General
With these dictionaries, Italian students will be able to solve all their lexical doubts, search and find the words they do not know and expand their knowledge.
- Pocket Dictionary Spanish-Italian / Italian-Spagnolo: See in amazon
More than 80,000 translations. More than 55,000 words and expressions. Essential vocabulary and commonly used technical words. Acronyms, abbreviations and proper names. Made phrases and grammatical constructions, Abundant examples of use. Phonetic transcription in both languages ​​includes a bilingual supplement with numerals, weights and measures, date and time, alphabet, and an appendix with verb conjugation in both languages.
- Essential Spanish-Italian / Italian-Spagnolo Dictionary (Vox - Italian Language - General Dictionaries): See in amazon
The dictionary in a handy format for the first levels of learning Italian. 28,000 entries and 45,000 meanings. 60,000 translations. Clear and accurate translations from today's Italian and Spanish. Terms and expressions of familiar use, neologisms, technicalities, etc. Abundance of set phrases, usage examples, phrases and grammar notes. Context indicators that help you choose the correct translation. Conjugation of Italian irregular verbs. Phonetic transcription of Italian voices. Summary of Italian grammar. Revised edition. Introduction of neologisms. And free access to the online version of the dictionary.
- Advanced Italian Dictionary. Italian-Spagnolo / Spanish-Italian (Herder Dictionaries): See on amazon
It contains 90,000 entries, more than 125,000 sub-entries and more than 25,000 voiceovers. Technical terms, frequently used examples, and Americanisms. Proper names of person, geographical and astronomy. Historical, mythological and literary characters. Phonetic transcription and indication of the stressed syllable. Civilization boxes with untranslatable terms linked to each culture. And, in addition, for both languages: appendices with grammar compendia, tables of regulated verb conjugation and list of irregular verbs, introduction to the pronunciation of Italian and Spanish.
- Dizionario Spagnolo-Italian-Italian-Spanish Dictionary. With CD-ROM: View on amazon
Compact
These dictionaries come in handy if you need to transport them around the site or if you have little space and need something comfortable and small. However, they do not lose their depth and the right organization to help the Italian language student:
- Compact Plus Italian Dictionary (Compact Plus): Bilingual dictionary and Spanish-Italian grammar | Italiano-Spagnolo: See on amazon
All the vocabulary necessary to understand and express complex concepts. Comprehensive treatment of frequently used keywords. Extensive coverage of the most current terms of everyday and commercial language.
Plus:
Practical guide to Italian with all the necessary information for correct oral and written communication: writing personal and business letters, CVs, emails and phone calls.
More than 90,000 words and expressions.
- Mini Spanish-Italian / Italian-Spagnolo Dictionary (VOX - Italian Language - General Dictionaries): See on Amazon . With 23,000 entries, 31,500 translations, abundant set phrases, usage examples, phrases, terms and expressions of familiar use, etc., Italian conjugation, conversation guide.
- Spanish-Italian pocket dictionary: See on Amazon . More than 40,000 entries. More than 70,000 definitions and translations. Idiomatic expressions and phrases. Verbal conjugation models. It also includes two useful reference sections: practical Italian, a guide to using Italian that contains a selection of terms and expressions and offers models of various types of texts: letters, CVs, email, SMS ... and Italian grammar, an accurate grammar summary, essential to effectively resolve any doubts about the language.
For starters
And for those who are just starting out, especially children, this dictionary is essential to approach the Italian language in a more playful and enjoyable way:
- Italian Dictionary For Beginners. (Dictionary For Beginners): See on Amazon. This colorful dictionary, illustrated with humor, will make learning Italian easier and more enjoyable. It contains some 2,000 words and phrases of daily use, grouped by subject and accompanied by descriptive drawings, to always know them within their context: shopping, traveling to a country, playing sports. At the end of the book there is a brief review of the basic rules of Italian grammar, and an alphabetical glossary in Spanish is presented with all the words that appear in the book, accompanied by their corresponding translation.
Visuals
These dictionaries are highly recommended for all students, whatever the level or circumstances in which they study Italian. Through images, memory acts much faster, in addition to making the learning process more fun.
- 100% Visual Italian Dictionary: See at Amazon . The ideal work to become familiar with the vocabulary and basic expressions of Italian. 2,000 words and expressions, 1 image per word, 80 common day-to-day topics. Fun pictures to easily memorize words. The book also contains pages on Italian culture and a mini Spanish-Italian dictionary.
- Visual dictionary. Italian and Spanish: See on Amazon Do you want to learn Italian in a fun way? Mastering the basics to get around abroad? Expand vocabulary without hardly realizing it? With more than 2,400 photos and illustrations and around 6,300 concepts and expressions, arranged by topics of daily life and a comprehensive index, this dictionary is without a doubt the answer.
- Multilingual Visual Dictionary (Larousse - Visual Dictionaries): See at Amazon . A multilingual work to acquire vocabulary through images. The precision and quality of the illustrations allow immediate and efficient consultation in any of the 17 thematic sections of the work. The exceptional qualities of the Visual Dictionary and its didactic value have made it a work of international prestige. Translated into more than 25 languages ​​and distributed in 100 countries, the 6,000,000 copies sold around the world guarantee its recognition as a practical tool for consultation and learning. 20,000 words translated in each language. 3,600 illustrations. This edition includes free access to dictionaries.com for 12 months to enjoy the dictionary on your computer and on your mobile.