Blog
Advantages of teaching online classes.
Nov 26, 2020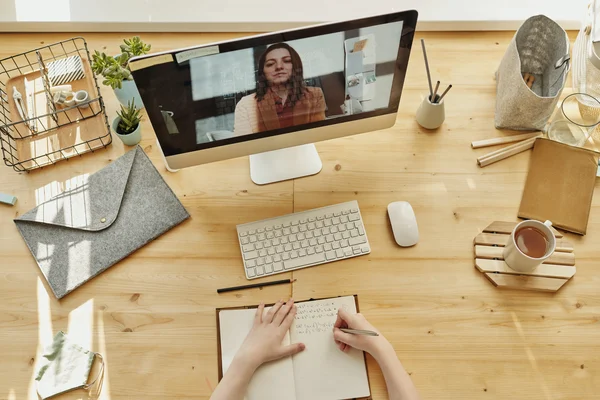 Advantages of teaching online classes.
The prospects of teaching online are very good, because in today's world of work, little by little, but very firmly, teleworking is gaining ground thanks to the fact that technical and scientific resources are developed in a spectacular way. Currently, there are many experiences to ensure that being an online teacher will be a profession with an extraordinary future projection . Today we are going to explain to you what are the advantages of teaching online, whether you are a teacher or a student.
The main advantages of online classes
1. For it to be possible to teach at a distance , two elements are needed that are essential: the student and the teacher, and that both obtain advantages. Due to the facilities offered by such a wide capacity, a well-planned organization by the teacher can ensure that the number of students is very important, with which the classes will be cheaper and as a result there will be more potential students.
2. Work planning will be essential, if you have other work commitments during certain hours of the day, you just have to adapt your language classes to your free schedule, such as private lessons.
3. At the beginning, if you find it difficult to establish yourself online, while you make room for yourself, you could register on one of the platforms that exist for online teachers to find students.
4. You must take care of your presentation or announcement of the classes that you are going to teach, if you are going to teach English, it is convenient to publish two types of announcements, the first one announcing in the English category explaining how your classes will be in practice, the levels; the second announcement in the Review section, with this you will open a field of broader perspectives and you will be able to reach many more students.

5. One of the keys is that your profile is complete. First you must indicate the price per hour of your classes, you must also put the areas you want to cover, not forget the levels, etc.
6. Experiences tell us that students prefer teachers who give them more confidence , if you have a curriculum it is good that you put it.
Being an online teacher is a profession of the future
Some important tips

- Make a first appointment with the student. It will be a contact with the purpose of knowing him, to know and analyze his needs in depth, in order to prepare well for your first class with him. For the student it will be an act of deference towards him and he will analyze it as a responsible attitude.

- Prepare the classes . Before giving any class, prepare its content, the objectives that should be achieved at the end of your class, think if you will need any specific exercises or additional material during the class.
The methodology for online classes

- As a teacher you can use Skype using the same method as to give face-to-face classes, that is, practice the four essential modes such as: speaking, listening, reading and writing. In any case, it adapts the classes to the needs of the student, both at their level and their particular objectives.

- Skype classes offer the comfort of working from home in the time you have established, this formula will also allow you to give classes even if you are absent from home and you can teach it from anywhere.
Prepare exams
One of the most suggestive attractions of an online tutor is that it can prepare a student who has to face an official exam in the short term . Direct work tailored to the needs of the student offers this many guarantees of passing the exam, for this reason, online private classes are highly required, because they allow the teacher and student to choose the most convenient timetables for both.
Characteristics of a good online teacher
It is clear that to be a good online teacher, you have to meet a series of characteristics, possess certain skills, since it is clear that a good language teacher is someone who:
- Knows how to face all the circumstances that may arise in the teaching of their language through the internet. It is clear that the language teacher must handle grammar and vocabulary fluently, in addition, be attentive to dispel the doubts of his students.

- Knows all the ins and outs of teaching, because not all students have the same ability to learn and requires the teacher to study their weaknesses, to give the most timely and effective teaching.

- Has sufficient ability to know what the needs of their students are in terms of their oral expression, their grammar, etc. Faced with the certainties and doubts of his students, the teacher must be able to guide him appropriately to satisfy such demands.
Final thoughts
The possibilities of succeeding in teaching through online are many, because this way of studying is being imposed , not only for comfort, but also for adjusting our lives, sometimes a little uncontrolled, because modern jobs require all kinds of schedules, which at first can end the desire of many young people, in this case, to study a language, with which they probably think they can solve their current work situation.

What is good about many of the new techniques is that with very little you can organize your life in another way , look at new horizons and make them come true. Become an online teacher It is a challenge, but a challenge whose achievement is at your fingertips, the only thing it requires is willing, because power is provided precisely by the technology that has been made available to you.