Blog
It is interesting to have an English degree from Cambridge on your CV
Nov 20, 2020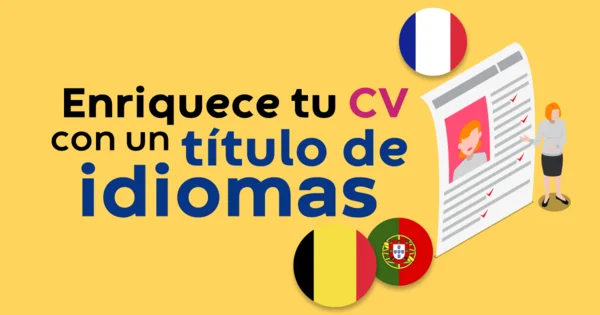 It is interesting to have an English degree from Cambridge on your CV
It is interesting to have an English degree from Cambridge on your CV
Accessing the job market can be difficult. It seems that obtaining an English degree can be a differentiating element in a job interview, but to what extent is it worth it?
We encourage you to continue reading this article to find out what are the reasons why obtaining an official language certificate is important, since it is not always useful just to speak the language that they request.
Have an official English qualification, why and for what?
The main answer is that this English title will help you to demonstrate in an objective way that you have achieved a certain level with that language.
This certificate can be useful both for your studies and for the world of work. There are certain degrees in which a certain level of English is requested in order to graduate, it may also be required to access a certain master's degree, but fundamentally we are going to focus on the field of work.
The three most important reasons in this regard:
1. It is required in some competitions.
2. It is essential to apply for visas to work in certain countries.
3. Improve the curriculum .
Certainly, does it improve the resume?
The answer is clearly yes. There are many job offers that require knowledge of a foreign language and, currently, more than 90% of these job offers request that a foreign language be English. Accredit with a certificate as the University of Cambridge will bring added value to that tagline which usually appears almost as default in all resumes self - respecting (the usual medium-high level).
Keep in mind that it will not only be enough to pass an initial screening, since, in most cases, they will give you a second interview in which you will have to pass an oral test. The interviewer is even likely to switch languages ​​in the interview to see how you get on.
Is it enough just to have the title?
Of course not. If you got your degree a long time ago, you may have lost some fluency in its spoken or written expression, so remember that studying a language is a long-distance career. You will have to continue dedicating time and in contact with that language so that your level does not drop.
What official exams are there?
There are many, but perhaps the best known in the environment single - level are as follows:
1. University of Cambridge degrees.
2. Degrees from Trinity College, London.
3. Qualifications of the Official Schools of Languages.
In the multilevel environment we find the following:
1. IELTS from the British Council, IDP Education and Cambridge).
2. TOEFL (American, from ETS).
What differences do these degrees have?
The main difference is their validity : while the IELTS and TOEFL have an expiration after two years, the classic Cambridge degrees do not expire.
Then we can find others such as the duration of the exam, the availability of dates to take it, the format (with pencil and paper or through the computer), the time you will have to wait for the results, the places where you can examine yourself in person and, lastly, the price.
What is the preparation for taking one of these exams?
The answer will vary depending on the degree you are considering obtaining. Those that are used to measure the level of English, without more, such as IELTS, should not be prepared, since what they are going to do is analyze what the level is at that moment.
If you want to obtain a specific level in your English degree, such as the one awarded by Cambridge , recognized internationally, you will have to prepare exhaustively to obtain a good qualification.