Blog
The best destinations in Spain to study Spanish
Nov 24, 2020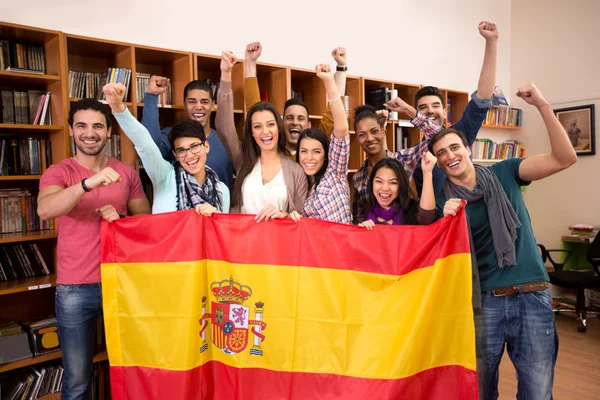 The best destinations in Spain to study Spanish
If you have decided to deepen your knowledge of the Spanish language and want to do it in Spain, today we want to help you choose your destination. Everything will depend on what you are looking for, what you prefer or need to make your experience unforgettable.
It must be taken into account that Spain is a country with great geographical and cultural diversity, so it is best to inform yourself before making the decision and choose consciously. Also, remember the linguistic diversity that we have in this territory, which is also important depending on your level of Spanish and the desire you have to expand your knowledge.
We go in parts, we are going to prepare a list of destinations, among them we will highlight the most visited and, then, we will prepare a list of cities that are somewhat more forgotten in this regard, but that can be, precisely for that reason, the ideal place to you. So keep reading, you will tell us what decision you have made!
The most popular destinations to learn Spanish:
Both by Spanish students and foreigners to make cultural visits and spend their vacations. These cities will bring you a lot of ideomatic and cultural wealth, take a good look:
- Madrid : it is the capital of the country. It is a wonderful city, where you will find absolutely everything you need and much more. Center of culture, packed with cinemas of all kinds, theaters of all kinds, large museums and exhibition halls, restaurants and bars of all nationalities, party halls and shows. You will not miss anything, in addition to the most diverse businesses. Very suitable for those who want to have a night life and interact with people from all over the world. Beware, the prices are high, in every way. Very well connected to both the north of the country and the south, you can access any point of the Spanish geography in a matter of a few hours.
- Barcelona: next to the capital, Barcelona is one of the most visited and populated cities. It is a modernist city, with cultural and aesthetic features of this movement in all its corners. Next to the sea, which makes it much more attractive. As for the rhythm of life, it is something very similar to Madrid: you will find everything to do, many more things and opportunities than you could imagine. You will meet people from all over the world. Remember that it is an area with a co-official language, so that you will hear Spanish and Catalan speaking interchangeably. Find out well because according to what things, you will also need to speak Catalan. Regarding prices, we are also talking about a relatively expensive city, but you know that in exchange for many opportunities. You will have good communication with practically all of Spain,
- San Sebastian: another of the most important and visited cities in Spain. Nestled within the Basque Country, it is a very beautiful, very special city. You will get to the north of the country, which will make you live a somewhat different experience. It depends on the climate you are looking for, you have to bear in mind that here it is usually cold and rainy, although it is in Spain and it is also hot. The culture, eating pinxos, the friendliness of the people will enchant you and surround you, as well as the beauty of the city and the entire region, through which you can easily travel and become absorbed in the landscapes. It is also a city with a co-official language, Basque, so we advise you the same as in the previous case. A city with a high standard of living, expensive prices, but you will have many wonderful things in return. It also has a lot of movement and gait,
- Seville: this time we suggest you go down to the south, so you can get to know the capital of Andalusia. Although the city does not stop growing and offers you many opportunities at all levels (you will have access to any type of cultural event at your fingertips), it is about the south and you will possibly notice a change compared to previous cities: the climate, It is extremely hot in summer and has warm winters, so you will spend a lot of time on the streets; its special gastronomy; their particular accent; its good communication with very close cities that are worth seeing, such as Córdoba or Cádiz, also beautiful and important in Andalusia. You must be patient with the accent, since for a foreigner it is difficult to understand, but little by little you will make yourself heard. It is not a cheap city, but, yes, it is something more than the cities of the north. Remember its wide cultural offer and its special parties. You will have a great time. In addition to meeting people from all over the world.
- Malaga: it is another Andalusian city with a lot of weight in terms of culture and visits. It has one of the most powerful airports in Spain, which attracts many people, as well as beautiful beaches. With regard to the cultural offer of Malaga, it is also a city that is growing, expanding, and you can find everything in terms of cultural events, shops, etc. You will meet people from all over the world as well and you will be able to travel throughout Spain if you want and Europe in an easy way. You are very close to Granada, an impressive and very beautiful city, also very frequented by students and tourists, who will love to visit. The prices are high too. You will have a lot of party if you wish. Accounts, as in the rest of Andalusia, with a different accent that at first may sound complex to understand.
- Valencia : it is a Mediterranean city, very special for that. It is large, also with a wide cultural offer, with people from all sides, with a lot of sea culture despite being a great city. You will eat wonderfully and you will be very close to Barcelona. They also have a second language, Valencian, very similar to Catalan. The people are very friendly, you will feel at home. You have to keep in mind that it is an expensive city too.
Other destinations: now we want to propose other very important cities in Spain, which together with the previous ones, will enchant you because they have an enviable cultural wealth; you will also have a party if you want, but being less crowded, they are quieter. The lowest prices, but with the possibility of accessing a wealth and heritage culture that will surprise you.
- Galicia: in full: you can visit any of its cities, you will love them all. Possibly Santiago de Compostela is the one with the most people, due to the pilgrimage, and in summer you will find more bustle. It is a northern area, next to the sea, where you can taste the most exquisite seafood. There are small and very special towns that you should not miss. They also have a co-official language, Galician, but somewhat less widespread and less spoken than in the previous cases. You will be able to enjoy nature, the sea, many rainy days, charming people and tranquility, at a very good price.
- Jaén: it is a city in Andalusia where you will spend a quiet stay. With many fewer visits than the cities that we have previously named, but, nevertheless, it hides a beauty, a tranquility and a cultural richness that will amaze you. It is a small and very cozy city, with nearby jewels such as Úbeda and Baeza, which you cannot miss and will love you. You will eat very well, you will have a lot of tranquility, the landscape is beautiful, but you will not stop having fun and finding bustling corners if you need it. The prices are very affordable to practically all possibilities.
- Toledo: it is a beautiful city, very close to Madrid, with a cultural and monumental repertoire that you will like a lot. It is very typical to visit it in one day from Madrid, so you will find many people and you will be very well connected. It belongs to the Castilla la Mancha region, so you can visit this special enclave and taste its food, its white and cobbled villages. These are small towns and cities, which will bring you very close to their friendly people, you will eat very well, you will be in a quiet, very healthy environment. We also talk about pretty good prices.
- Salamanca: it is a very busy city at the student level, but somewhat less than the ones we have highlighted as the main ones. It is an important and significant city for students of Spanish. Very well priced, nice, small, quiet but with places to go. You can communicate with any of the neighboring cities that make up the Catilla León region, somewhat forgotten cities, but which are true gems to visit: Burgos, Ávila, León, Zamora ... You will eat delicious typical dishes, the prices are very good. Mind you, it's usually cold over there.
- Murcia: very close to Andalusia and the Valencian community. With beautiful beaches, a healthy and pleasant environment, much quieter than in large cities. You can live and have many experiences, of all kinds, for a fairly good price. You will be able to taste authentic Mediterranean cuisine, as well as having fun with some wonderful people. It attracts tourists in summer, but considerably less than the rest of the cities. You will be able to spend a peaceful and unforgettable stay.
- Mérida: you can think of the option of Extremadura, a land rich in nature, gastronomy, and the typical culture of small cities. It contains an unmatched wealth and everyone who visits its cities falls in love, for the climate, for the people, for everything. Badajoz, Cáceres and its towns, but perhaps in Mérida you will find a greater offer of everything and more students. It is an impressive city with Roman remains of a power that you cannot imagine. You have the theater festival that will bring you very close to its traditions. Everything at a good price.
And we don't forget other wonderful cities that you are going to love: Tarragona or Gerona in Catalonia, both of incredible beauty, cities that offer all kinds of opportunities; Almería in Andalusia, next to those already named Córdoba, Cádiz, Granada or Huelva, with beautiful beaches and a beautiful mountain range; La Rioja and its landscapes and wines or Cantabria all with a wonderful coastline, next to Asturias , of the same dimensions in beauty in the north.