Blog
Proofreading: a career path for language learners
Nov 27, 2020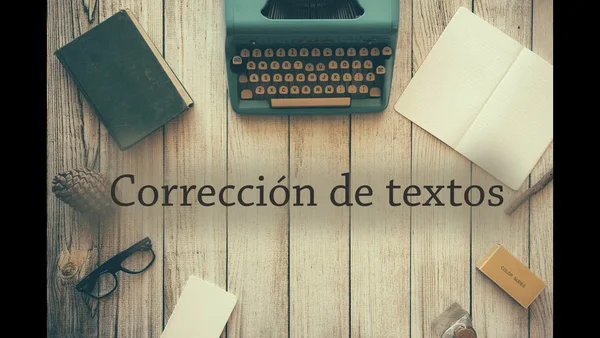 Proofreading: a career path for language learners
If you study a foreign language and already have an advanced level or if you study your own mother language thoroughly, you have many possibilities of opening new professional doors such as proofreading. If you like to read, take care of the written texts and contribute your knowledge of the language in question, surely you will love this profession and that you will enjoy practicing it very much. Today we are going to tell you what being a proofreader consists of, how you can train and everything you need to open your career path in this sector.
The proofreading, a little known profession
You may never have heard anything about this profession. If you don't move around the publishing sector, you didn't even know it existed. Or maybe you've heard of the figure of the copyeditor, always related to the press. However, in the world of text editing and publication, the figure of the proofreader is very necessary, essential, and, therefore, highly demanded at the same time.
Perhaps it is because the proofreader does a job in the shade and because he has to leave as few traces as possible of what he does, so little is known about him; However, their work is fundamental and very interesting , since it is about the person who helps editors or directly writers to polish the texts so that they are published with the highest possible quality. It is precisely this that sometimes makes him an unloved figure, due to the widespread prejudice that exists of being the one who spoils what is written in an original way. Far beyond all this, the proofreader is the figure responsible for maintaining the original style, cleaning it of possible misprints, grammatical or spelling errors, compositional mistakes, etc. As you can see, this is a very meticulous career, who must love while also knowing her working language very well and in depth in order to apply all the knowledge. But, especially, it has to be a person who is capable of concentrating a lot and making very attentive and concentrated readings of the texts, without practically anything escaping them. To do this, several proofreaders usually work on the same texts. Thanks to the fantastic relationship between proofreader-editor-writer, the final work will be of a high quality, out of respect for their work and their readers.
The different types of proofreading
If you are interested in all this world of correction, you should bear in mind that different types of corrections must be made on a text, depending on the text and its characteristics. Therefore, if you want to be a proofreader, you must specialize in one of them or several, as you see, but with deep specialization and full knowledge of the work tools of each of them:
- The proofreader: the proofreader is generally the first proofreader to touch a text. Although it is called that, it should never touch the style or personal voice of the author of the text, and good copyeditors know how to do that very well. On the contrary, what you should do is be aware of possible errors in grammar, spelling, mistakes in the composition of the text. He does one or more readings to get all of this worked out.
- The orthographic or galley proof correction : it is practically carried out at the end of the editing process. Right at the end, when the model is assembled before going to press, this proofreader checks that nothing has been left, that everything is neat and in place.
In addition to these basic and fundamental corrections that must be made in all texts, there are other possible ones:
- Correction of content: these are technical or very specific works that use a highly specialized vocabulary within a specific area. The proofreader must check that all terms are used correctly and in the best possible way. That is, you must be a specialist in the subject matter.
- The revision of translations: it is about revising the work after being translated. Check that the translation is correct and that both languages ​​have been used in the best possible way.
Correcting texts: a professional outlet for the language student
As you have seen, proofreading requires extensive knowledge of the language you are working with, even if it is the native language of the proofreader. Therefore, if you already have an advanced level of any language, level C1 is recommended at least, we advise you that if you are interested in this profession, take a specific course to learn correction techniques and specialize in some branch of text correction.
As you can see, learning foreign languages ​​opens many doors for you. The possibility of working with the language studied is feasible, you can do it if you feel like it. Sometimes, even if you don't believe it or even know it, you will have many job opportunities, specializing in many professions that you probably did not have in mind. Because studying languages ​​is a great opportunity, not only because of the experience itself at the time of study, but because of all the possible experiences that will come to you later.
And if you study a foreign language , but you are also interested in working as a proofreader in your own language, you already know that you have a double chance: to train as a proofreader in Spanish or in your native language and also in the new language. That will mean a double work aspect, many new experiences, opportunities and the possibility of continuing to learn both languages ​​day after day, training and reading a lot if that is what you like and want for yourself.
Some opportunities for language learners
We like to recommend foreign language students to enjoy the journey to the fullest, the trajectory. That they are able to reach the maximum levels of the chosen language in order to truly enjoy all the advantages that these experiences can bring them. For this reason, in addition, we also advise that students of foreign languages, once they have arrived with work and daily study at the different levels of languages, that they also obtain an official certificate to demonstrate their knowledge, always with the protection of a recognized institution behind their back.
Once this point is reached, any professional with a certified foreign language, at its higher levels, will be able to open doors in many parts of the world, expand their places of residence and will be able to work with much more prestigious and international companies that without the knowledge of the language they could not choose. They could possibly also aspire to many jobs work involving promotion, involving growth and learning in their positions. It is also possible that companies can offer them new positions, specializations and very interesting training within their area of ​​work, which will always mean a real improvement.
New professions that you can choose with a language degree
As we have discussed previously, knowledge of a language simply does not open the doors to any profession. You also need some type of training to specialize in the work of the area that you are going to work, in the field of specialization that you are going to develop. However, keep in mind that now there are many expert courses, specialization, which in an intensive way, without spending a lot of time, prepare you to practice new professions, open the doors to many new opportunities. Therefore, if you decide to open a field in one of the new options, inform yourself well and train. In case you don't know them, all these professional opportunities may interest you:
- Interpretation : it is a very highly demanded profession. We could tell you that in each sector an interpreter is necessary for companies that have clients or international relationships. In congresses, in hospitals, in restaurants, hotels, companies, bilingual schools ... Look at the number of sites that require the presence of this type of professional. You can approach any profession in which you are sure to find your place as an interpreter.
- Teaching: We all know that the most common professional option when studying a foreign language is teaching the foreign language or our own language for foreigners. And that is very good if you like it and if you consider that it may be your sector to develop professionally. However, go further and think that you can do many things as a teacher, that is, you could also specialize and do something more exclusive: dedicate yourself to preparing exclusively for official exams; dedicate yourself to preparing the spoken part; dedicate yourself to teaching a language through, for example, cinema or music; you can dedicate yourself to teaching only online; You could also dedicate yourself to teaching children or people of certain ages; Have you thought about preparing only college students? ...
- Tour guide: if you love tourism, history, travel, culture ..., this may be the profession that suits you best. You will enjoy a lot accompanying visitors to a certain place, telling them stories, walking, making visits. It can be a beautiful profession that fills you with life and allows you to meet a lot of people.
- Text correction : if you like to read, you love the world of publishing, you can dedicate yourself to this beautiful profession in which you will have to help editors and writers to organize texts, check that there are no grammar or spelling errors. You can work in publishing houses, newspapers, communication agencies, etc. It is a very interesting, very beautiful job that will allow you to learn a lot through written texts.
- Translation: a beautiful profession that will allow you to mediate between two languages ​​and pass information from one to another. It is also a profession that requires extensive knowledge of two different languages, the arrival and the departure languages. You don't have to limit yourself to literary translation, there are many sectors that need translators. From audiovisual, musical, humanitarian, etc. You have at your fingertips a long list of translation agencies that can provide you with work in a constant and stable way, and it will be varied and you will learn a lot for sure.