Blog
Knowing how much it costs to get an official Englis degree is ideal
Nov 20, 2020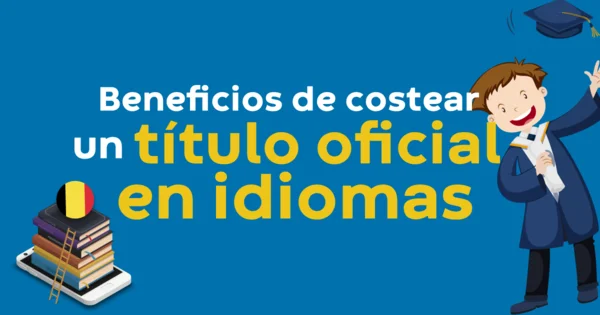 Knowing how much it costs to get an official Englis degree is ideal
Knowing how much it costs to get an official English degree is ideal
Do you know how much it costs to get an official English degree? Many institutions offer the option of studying English, but not all of them are within the best-known schools such as the University of Cambridge that grants international certificates and is one of the most recognized languages ​​in the world.
In Spain, learning languages ​​is a priority , so much so that many Spaniards set it as their main goal every time they start a new year. Mastering the English language not only helps you grow in the workplace, but you can also grow personally. Imagine visiting a foreign language country and having a conversation with the native people of that place.
How much does it cost to get a degree in English
In order to know which is the best certification of the command of this language and how much it costs to obtain a degree in English, it is necessary to know the recognized levels that go from the most basic (A1) to C2, which is bilingual.
But do you know what the exam price is for the basic level? The A1 level exam is focused on the school stage and is made up of three sessions: Starters, Movers and Flyers, with a total price of 180 euros, that is, 60 euros each. While the A2 Key (KET) is a step higher than the aforementioned, recommended for the little ones. The price is 100 euros and includes a certification in a basic competence.
On the other hand, there is the C1 Advanced (CAE), which includes an advanced level of English language in which a high expressive development in the academic and work environment stands out. The price per registration for this exam is 190 euros if it is written and, if it is done through a computer, 205 euros.
If you are looking for the maximum aptitude in English, the C2 Proficiency (CPE) exam is convenient for you because you will demonstrate total mastery; that is, you will be able to communicate fluently and understand a native English speaker. If you ask yourself: " how much money will it cost me? ", The price per call is 210 euros.
International English qualifications
You can also opt for certifications such as TOEFL, IETLS, Aptis, Oxford or Trinity . If you obtain an English degree through one of these institutions or methods, you will be recognized at the University of Cambridge level.
The International English Language Testing System (IELTS) is managed by the British Council, IELTS Australia and Cambridge. This system is adapted to the needs of immigrant and foreign students who wish to assess their skills in English. The cost is 220 euros.
On the other hand, the Test of English as a Foreign Language (TOEFL) is a certification that is given in American English and allows an academic orientation. It is recommended if you want to enter an American university. It is also a requirement for universities in Australia and Canada. The cost ranges from 140 to 230 euros.
As for the Oxford Test of English it is also recommended for a level accreditation.
For their part, the Trinity exams are recognized around the world, as they award official degrees in English. They are also recognized in universities and companies nationally and internationally.
Finally, the Aptis exam is known as one of the most innovative. It is done to measure the level of English you have. It is made up of writing, reading, grammar and speaking.
Now that you know how much it costs to get an official English degree , don't waste any more time and study the one that best suits your needs. It will help you on a personal, academic and work level. Bear in mind that every day large companies increase their level of demand to improve their competition; therefore, you need a degree endorsed by a prestigious institution.