Blog
Goethe Zertifikat B1 exam: German exam
Nov 23, 2020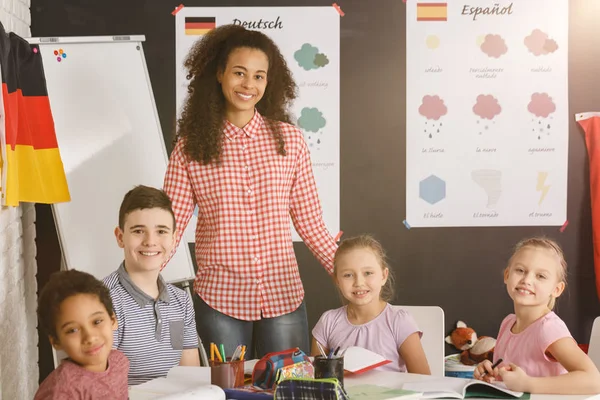 Goethe Zertifikat B1 exam: German exam
The German B1 title is a certificate that accredits the holder of sufficient skills to be able to function with sufficient fluency and ease in the day to day speaking German. It is the intermediate level according to the European Reference Framework for Languages ​​(CEFR), being the third level of the six existing.
Parts of the German B1 exam
The German B1 certificate consists of several parts that must be passed by the student. They can be classified as:
- Reading : the part dedicated to the correct reading of the text and its comprehension; It is focused on the intermediate level German qualification. That is, the person who acquires the intermediate level title must be able to understand writings such as those in an email or letter, magazine or newspaper articles and other texts that a person may encounter in their daily life. Likewise, the student must be able to understand points of view, opinions and important details.
- Writing : in the same way as reading, a student at the B1 level of German must be able to write short texts, such as emails, letters to family or friends and small writings in which they express their opinion or descriptions about something.
- Conversation : the speaking capacity of intermediate level students must be sufficient to be able to carry on a conversation similar to those that could occur normally in everyday life. Being able to maintain a coherent conversation, connecting sentences correctly and without having to think at home what to say, that is: improvisation skills. Examples of these types of conversations might be summarizing a book, making plans, answering questions regarding the conversation, and so on.
- Listening comprehension : when an intermediate-level student of German is ready to pass the exam, they should be able to: listen to short speeches with adequate speaking speed, radio or television programs or everyday conversations, capturing the essential parts of the dialogue.
That is, this title prepares you to function in a German-speaking country, without many difficulties, and without external help. So it covers the basic disciplines for learning a new language.
Duration of the exam and each of its parts
The total duration of the German exam, without counting breaks and intermediate times between test and test, amounts to 180 minutes, or what is the same, three hours. The duration of each separate test is:
- Reading: 65 minutes.
- Writing: 60 minutes.
- Conversation: 15 minutes (approximately).
- Oral comprehension: 40 minutes.
Contents of the German B1 certificate
The contents that we will find throughout the test can be divided as grammar, vocabulary, listening, oral, written and reading comprehension.
Within the grammatical contents we distinguish:
- Prepositions of time and place.
- Modal particles.
- Passive voice in different tenses.
- The expression is .
- Conjunctions and adverbs.
- The infinitive with zu.
- Conjunctions of two parts.
- Present and perfect participle.
The lexicon or vocabulary that is studied during the academic year is:
- Politics and society.
- Economy.
- Cultural manifestations such as art and painting.
- Society and social events.
- Landscape and tourism.
- Environment and climate.
- Personal relationships.
- Future plans.
The main topics to master in terms of listening comprehension revolve around:
- Be able to understand interviews.
- Perceive when a misunderstanding occurs in a conversation.
- Understand radio and television programs, capturing important ideas from them.
- Distinguish various points of view in a conversation or speech.
- Understand conversations about everyday topics.
The oral comprehension that is learned at the intermediate level is summarized in:
- Be able to make justified recommendations about something.
- Be able to conduct job interviews with a standard German.
- Ability to tell stories, make oral presentations and even answer questions related to them.
- Ability to solve misunderstandings derived from the conversation.
- Participate in conversations, so that you can react appropriately to the ups and downs of it. That is, to be able to react when you talk about something sad or happy.
- Emphasize certain parts of the speech that are considered important.
The written understanding of a student acquired during the course is:
- Ability to develop biographies in an orderly and concise manner.
- Write simple and short texts on everyday topics.
- Describe events, such as trips or past experiences.
- Write personal letters with information about personal experiences and impressions, expressing feelings and reactions in the text.
During the training, the following points related to reading comprehension will be emphasized:
- Be able to read blogs, magazines, informational texts and even interviews.
- Understand simple texts on specific topics, such as the academic program of a course.
- Recognize different points of view in a text.
- Understand surveys.
Didactic material to pass the exam
When we prepare an exam, we must not only think about passing the course to obtain the title. If we really want to learn a language, we have to make use of the materials indicated by the center responsible for such accreditation.
Among the materials that the center will provide, we can find books, in which we can work on various texts related to the topics that vocabulary deals with, exercises to check our understanding, and even listening activities to achieve maximum command of the subject.
An exercise book in which we can put our knowledge into practice will be of great help to secure all the concepts in our head.
Examples of this type of book are the Sicher! B1 +, from Hueber publishing house, which have both a textbook and an exercise book.
Being a new language, there are many words that we do not know, and although some of us are able to understand them from the context, a German dictionary will be our lifeline.
However, it is also possible to enhance our knowledge by making use of the Internet. Today, there are thousands of platforms where we can improve our skills in foreign languages. With the possibility of having regular conversations with native Germans. For example, Tandem, a platform with its own app that connects people who want to learn a language, with other people who, in return, only ask for the same thing.
If we want to go one step further, we can look for YouTube channels of German creators, so, while we entertain ourselves, we will be learning new vocabulary, expressions that are used in Germany and maybe some customs.